I somehow became fortunate as I've booked my first Hajj and so can't wait to fly above the sky of Saudi Arabia. There's still a chain of anxious thoughts going through my mind and I need a guide for almost everything.
Stay in Makkah during Hajj Got Easy for Me & My Family
Traveling and staying away from home always made me sleepless for nights. Well, I came across through the thorniest decision of where and in which hotel shall I stay in Makkah? To not over-delay on any of the religious practice and to not cheat sincerity in prayers, I'm glad to have a friend that recently did his Hajj. Actually, he knows pretty much.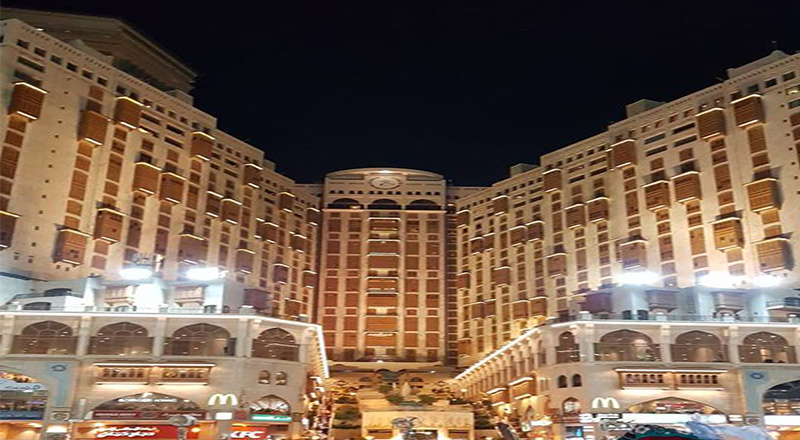 When I'm on the most sacred journey of my life, I would prefer nothing but peace of mind. I would likely to attain all my pilgrimage prayers in a level of comfort and convenience. The friend of mine could not be regarded less than an angel who Allah might have sent to me. Days back when I was all puzzled up about booking the best and reasonable hotels in Makkah, he told me all the best choices I got.
The Top Best Hotels in Makkah to Book for Your Next Hajj
Performing pilgrimage as an individual is different than doing it with a wife and an 8-month old daughter. It's okay when you get conscious of your little family and you start caring about each and every blessing given by Allah in your home.
3 Hotels On-The-Go to Stay Near Hajj
These are the best ones for you to hit the 'Book Button' if you're planning anytime nearest for Hajj. They give you reasonably priced hotels facilities and services cheap. What else do you want more? If you've already spent on your air-fare, then at least save your pennies in hotel accommodations.
Hilton Suites Makkah
Hotel 'Hiltons Suites' is the finest you can get if you don't want to walk more than 5 minutes, close to new King Abdullah wing of Haram. At one side, it is the nearest to Masjid-Al-Haram which holds many benefits if you're with your family to stay in Makkah during Hajj.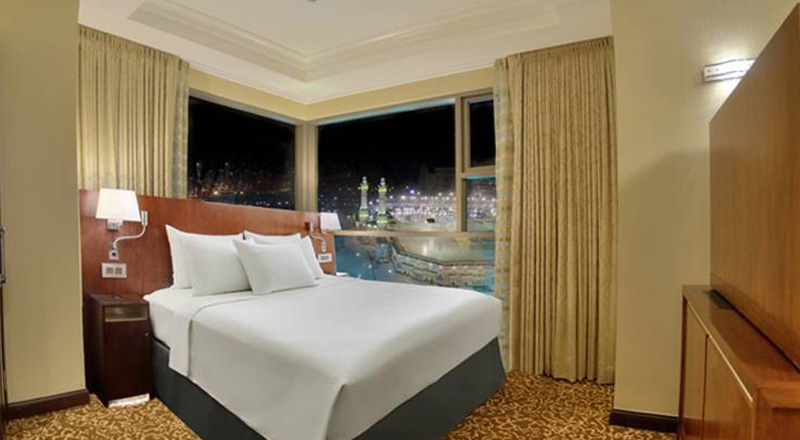 On a way to access Masjid-Al-Haram, you need to walk only 2-3 minutes from its executive lounge to the Masjid. It's totally built wind a modern design and has been ranked 3rd out of 257 hotels. Rooms are accompanied with full panoramic Kaabah view. There's a huge prayer hall on the 3rd floor and have a sisters section on the 4th. There are many food restaurants a shopping mall surrounding o the property. The airport too is approx 100 km away. It's one of the top-rated hotels.
Swissotel Makkah
This could be your next sensible stop because it a part of Abraj Al Bait complex, the deluxe Swissotel is 5-star rated one. It's located in close proximity to the Masjid-Al-Haram, overlooking the Kaabah. It offers 1,487 rooms and suites which gives a definition of a rich Arab culture.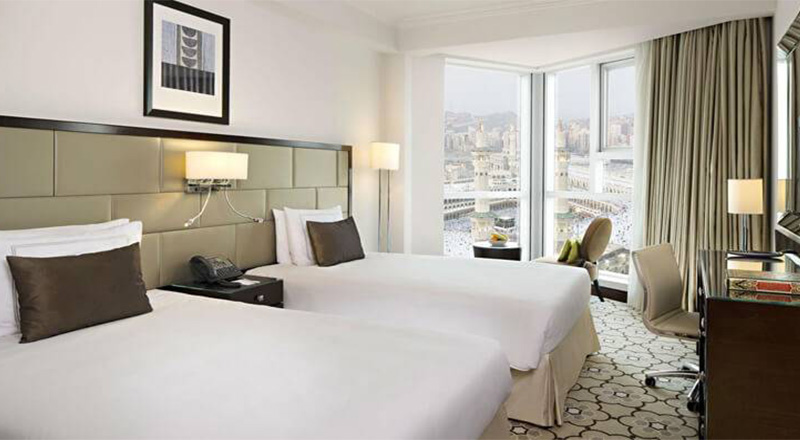 Swissotel have two inside restaurants, a meeting room, and a business center. It has got private entrances which makes convenience for pilgrims to reach the Masjid. The environment one receives there is friendly and discipline because it is known for its greatest customer service.
Pilgrims, who read about booking the best hotels in Makkah at Dawn Travels, usually stay here for Hajj and also consider it for their next Hajj too.
Fairmont Makkah
It's the pilgrim's perfect place to experience Makkah which is adjacent to Masjid-Al-Haram, closest to Kaabah – The heaven heart. It has 1,618 guest rooms' suites and each one of it exhibits the warm Arab tradition.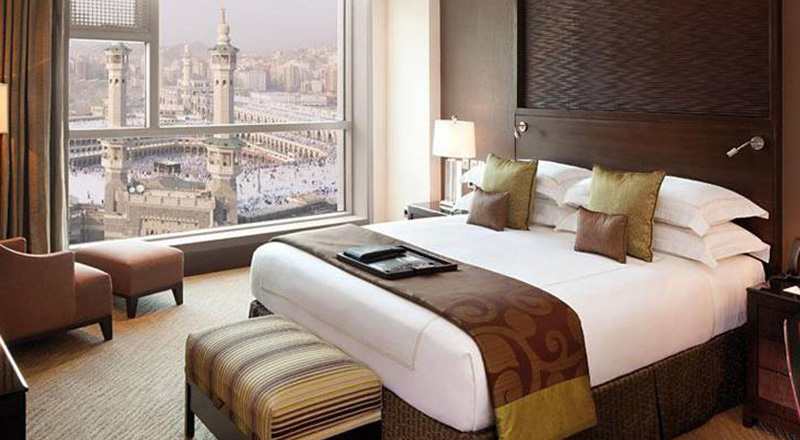 It is also known for its unmatched hospitality and magnificent close views of Ka'bah. Fairmont's rating nearly 8.8 which is an excellent value for the couple trip that stays in Makkah during Hajj.