"SO BY MERCY FROM ALLAH (S.W.T), [O MUHAMMAD], YOU WERE LENIENT WITH THEM, AND IF YOU HAD BEEN RUDE [IN SPEECH] AND HARSH IN HEART, THEY WOULD HAVE DISBANDED FROM ABOUT YOU. SO PARDON THEM AND ASK FORGIVENESS FOR THEM AND CONSULT THEM IN THE MATTER. AND WHEN YOU HAVE DECIDED, THEN RELY UPON ALLAH. INDEED, ALLAH LOVES THOSE WHO RELY [UPON HIM]." (VERSE 3:59)
The above verse lays emphasis on the fact that a person must ask for forgiveness from Allah, as He is the one who shows mercy and forgives all the sins of His followers. But if a Muslim has verbally or physically abused anyone else, then he must ask for absolution from that individual, personally.
One must ask for clemency from the victim who went through any sort of abuse that person caused, intentionally or unintentionally. But asking for forgiveness from the social radar one has, before going on Umrah is essential.
Sunnah of Holy Prophet (PBUH)
Umrah is a Sunnah of the Holy Prophet (S.A.W) and must be performed by every Muslim anytime in his life. An accepted Umrah would wash all the bad deeds of a Muslim and would provide him with a clear view of opting for a life full of good deeds.
An accepted Umrah is the one when Allah forgives all of the sins of that individual. But if there is any sort of abuse he might have done to others, he must also ask for forgiveness from the victim of that abuse.
One might feel guilty doing that, but he must remember that the forgiveness act he is doing it for himself and for Allah. He must not feel ashamed while asking for forgiveness but must ask for forgiveness with all of his heart and with the intention that he would never perform such ugly acts anymore.
Allah almighty is very generous and would forgive all the sins if one asks for forgiveness with all his heart. It is believed that Allah's love for His creation is no less than the love of 70 mothers. Therefore, asking for forgiveness before going to Umrah is essential as one must be as pure as he can before he seeks forgiveness during umrah.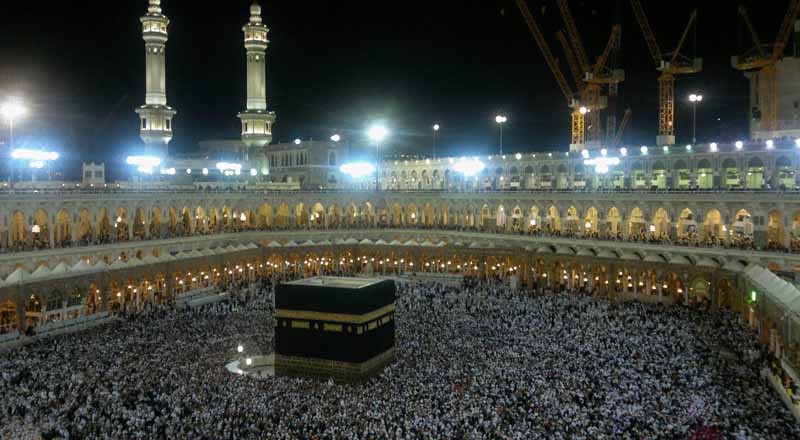 Higher Place in Paradise
Another reason for Umrah is to earn a higher place in paradise. For that one must perform Umrah with all his heart and must be able to forget about the worldly affairs during the duration of Umrah. This is why people ask their friends, families and their acquaintances to forgive them and clear their heart from their side.
Such actions will allow a person to focus on Umrah completely and his main concern of Umrah will switch to pleasing Allah and having a pure intention of earning a respect in the eyes of Allah for a lifetime.
To enter paradise, one must clear his heart of the bad his Muslim brother has caused him. They must forgive each other and must search for a solution.
The Messenger of Allah (blessings and peace of Allah be upon him) said: "It is not permissible for a Muslim to shun a fellow Muslim for more than three days, for they are both in the wrong so long as they are shunning one another. Whichever of them is the first one to (take the initiative and) seek reconciliation, his taking the initiative will be an expiation for him. If he greets him first and the other one does not accept (his initiative) and respond to his greeting, the angels will respond to him and the Shaytaan will respond to the other one. And if they die without resolving their dispute, neither of them will ever enter Paradise."
Therefore, seeking forgiveness is essential before going to umrah. This is how the steps of the Holy Prophet (S.A.W) will be followed obediently and Allah would be pleased with that person.